We started at night. We switched each other in front of the wheel with Peter. Naturally, we have chosen the Budapest-Miskolc-Kosice-Nowy Sącz route. We stopped at Forró for a brief time. We glided onwards in the night. Peter knew the way well, he often visited Poland.
When we arrived, we entered a supermarket in Krakow. We headed straight to the bigos bar.
"Finally, some good bigos" said Peter. "It's an excellent food. Kielbasa really livens it up. Tomato and honey gives it a very good taste. And prunes! It's heavenly."
"Some vodka would still be fine in it!"
"We can't let ourselves do that. There is zero tolerance. Drive or drink."
"Let's get to our quarters!"
It was a comfortable, newly furnished, well-equipped apartment with two rooms on the upper floor of the house; a recently refurnished apartment, with breath-taking view from the 20 square meter balcony.
The flat has a southwest orientation – not only there is many practical things in the living room, like TV, DVD, computer and broadband, – but there is a lovely, magnificently spacious and green balcony, with view to the river Vistula, the baroque Saint Stanislav church, the Wawel and (good morning) in a clear weather, even the Tatra is visible. There is comfortable furniture on the balcony.
"We can even enjoy sunset here."
We catch our breath, and then leave for Przemek. Przemek is the father of two teenage girls. He speaks good Hungarian. He graduated from the Budapest University of Technology and Economics.
"We are headed through Nova Huta. Were there any uprisings here?!"
"Is that the main road?"
"I am going to jump back to 1981" Peter says. "We went to the movies with Katarzyna, by car. While we were on the main road, we heard puffing and some noise from the iron foundry of Nowa Huta."
"What the hell is this, Katarzyna? Can you hear it? Is there a football match?"
"This is no football" Katarzyna said. "Hurry up, or we could get hurt!"
A statue of Lenin stood in front of the foundry. Workers broke down one of its legs. We turned in front of the house. Przemek stood in front of it.
"They are making some noise in front of the foundry. They might be fireworks."
"There used to be a statue of Lenin in front of the foundry. Workers broke down one of its legs. These are no fireworks. It is the uprising of the foundry workers. There is a riot. The foundry is seething. Inflation lowered their standard of living. 2000 workers were let go. Many people of Nowa Huta got arrested. Riots and demonstrations are starting to be a daily event. "
"There is going to be a demonstration today at the ark church, as well" Katarzyna added.
When we were here in 1991, these houses were not painted. Time was not graceful with them, plaster started to fall off here and there. Windows could not be closed. Air moved in and out on them. We are trying to find the little pub where the Imperial and Royal memories were anno. The Austrian emperor was also a Czech and Hungarian king. And the king of Galicia and Lodomeria as well.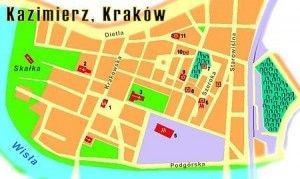 The houses of Kazimierz survived the war – unlike most of its population, who were first deported to the ghetto, then to Auschwitz or another German death camp.
In 1991, these houses were not painted. Time was not graceful with them, plaster started to fall off here and there. Windows could not be closed. Air moved in and out on them.
"Where to go? I almost can't recognize these houses."
Polish suffered a lot under the various reigns. Economy and markets were prospering, though. There was a map of Galicia on the wall of the little pub. Old newspapers, wall ornaments told the story of a boiling economic and social life, before 1918. War took many things away. "I have reconsidered everything, I have considered everything" Franz Joseph I. said before World War I. In reality, he did not consider anything, and he did not reconsider anything. More than 10 million people fell because of incitement and fomentation. If the devil of hatred is dancing, death has a good harvest. The well of memories is deep, but pulling them out is not that easy. Little remained from the once ghetto, but Kazimierz, with its synagogues and mikve, still can be found. Zigzag streets and an old Jewish Remuh-graveyard, where famous rabbis are buried next to each other. Old houses got repainted; the street has been changed by the more-or-less tasteful neon signs. Little electric trams are running, bringing tourists through the Jewish district to the factory of the late Schindler, in the neighboring Podgórze.
"Let's find the place where the factory of Oscar Schindler stood" we started towards South. "And we can check out the site of the film."
It was close to night, when we started back. Peter drove slowly, we were on unknown roads. He likes to go as the crow flies. He likes challenges. Always looking for the shortest route. We were going through a forest area. We suddenly saw a big sphere on the sky. It was transparent, like a jellyfish. It was approaching slowly.
"Stop!" I shouted. "Jump out of the car."
We jumped out, into the ditch next to the road. The transparent sphere was moving straight towards us.
"Maybe Bolyai is here? The famous mathematician. One of the explainers of the big non-Euclidean mathematics."
Peter was in no mood for laughter.
The shining sphere was swimming graciously on the sky, getting even closer.
"Come on! Run away from the car! The further, the better!" Peter shouted. We ran about three hundred meters backwards, and cowered into the ditch.
"The sphere is descending on the road. It is full moon."
"That's a bad sign."
We saw everything very clearly. We saw completely well what was happening inside the sphere.
"This is their ferry. Their spaceship is out in space."
"Shut up already" grunted Peter.
"Hey, there's a problem. I'm going to faint."
"No way. I thought. Something else."
"I'm going to call the police"
"No." Peter hissed. "They are going to notice the signals of the radio."
A door opened. They lowered stairs to the road. A woman excited the sphere, in a white dress.
She opened the door of the car. Looked around the cabin. Then she went to the trunk. Opened it. It was like she put something in there.
"Hey, she looks like your wife." I moaned.
"Hm." Peter whispered. "Check."
The woman entered the flying sphere. It slowly, gracefully rose. We got to our feet and looked astonished after the sphere.
"Quick, get to the car!" We got in. Peter started the engine. The self-starting did not ignite. We sat there, idealess for a few minutes. Maybe five minutes passed. The feeling of helplessness faded, we got to a new strength. We got out from the car, and I opened the hood.
"Let's check the fuse. I opened the door. I have checked the table through."
"This melted out. I will change it." We sat in, Peter started the car. The engine started. We looked at each other.
We got back to our quarters around 9. We met the owner. Peter told him what happened. The man looked at us a bit sideways.
The next day we got back to Hungary. I have put the car up for sale.
Since then, whenever I meet with Peter, we look at each other, and have the same thought.
Why was it us, this thing happened to?
To be continued